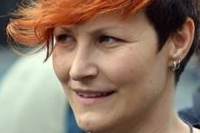 Rođena 1980. godine u Smederevu gde je završila Gimnaziju. Studirala je na Filozofskom fakultetu, smer Andragogija. Završila napredni nivo Racionalno-emotivno bihejvioralne terapije. Polja interesovanja: lezbejski aktivizam, ljudska prava, queer feminizam i psihoterapija.
* * *
Education Program Coordinator
Aleksandra was born in 1980 in Smederevo where she graduated from high school. She studied at the Faculty of Philosophy, department of Andragogy.đ, and completed advanced level of Rational-Emotional BehaviorTherapy. Her areas of interest are: lesbian activism, human rights, queer feminism and psychotherapy.