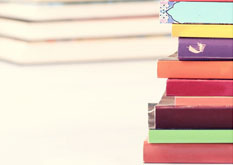 All discriminatory content in textbooks will be removed
In the response which was sent by the Institute for the Advancement of Education and addressed to Labris, regarding the request for the harmonization of the content of textbooks to the laws, it is stated that all discriminatory content in textbooks will be reviewed and removed
---
In April, to the address of the Institute for the Advancement of Education,  Labris sent a Request for revision of the content of textbooks and teaching aids which contain discriminatory content and their alignment with the values ​​contained in Article 4 of the Law on Textbooks and teaching aids ("Official Gazette RS" no. 72/2009). Labris resent the request on July 27th, and the answer came at the beginning of this month, after the Serbian Parliament, on 31st of July 2015, adopted the Law on Textbooks ("Official Gazette RS", no. 68/2015).
In the response we have received from the Institute it is written that it commits to drawing up a proposal of by-laws in order to define more closely the plan of textbooks and standards of quality of textbooks, manuals, teaching materials and didactic teaching materials, where they will also take into account the guidelines that eliminate all forms of discriminatory content or approach in relation to all minority groups or individuals.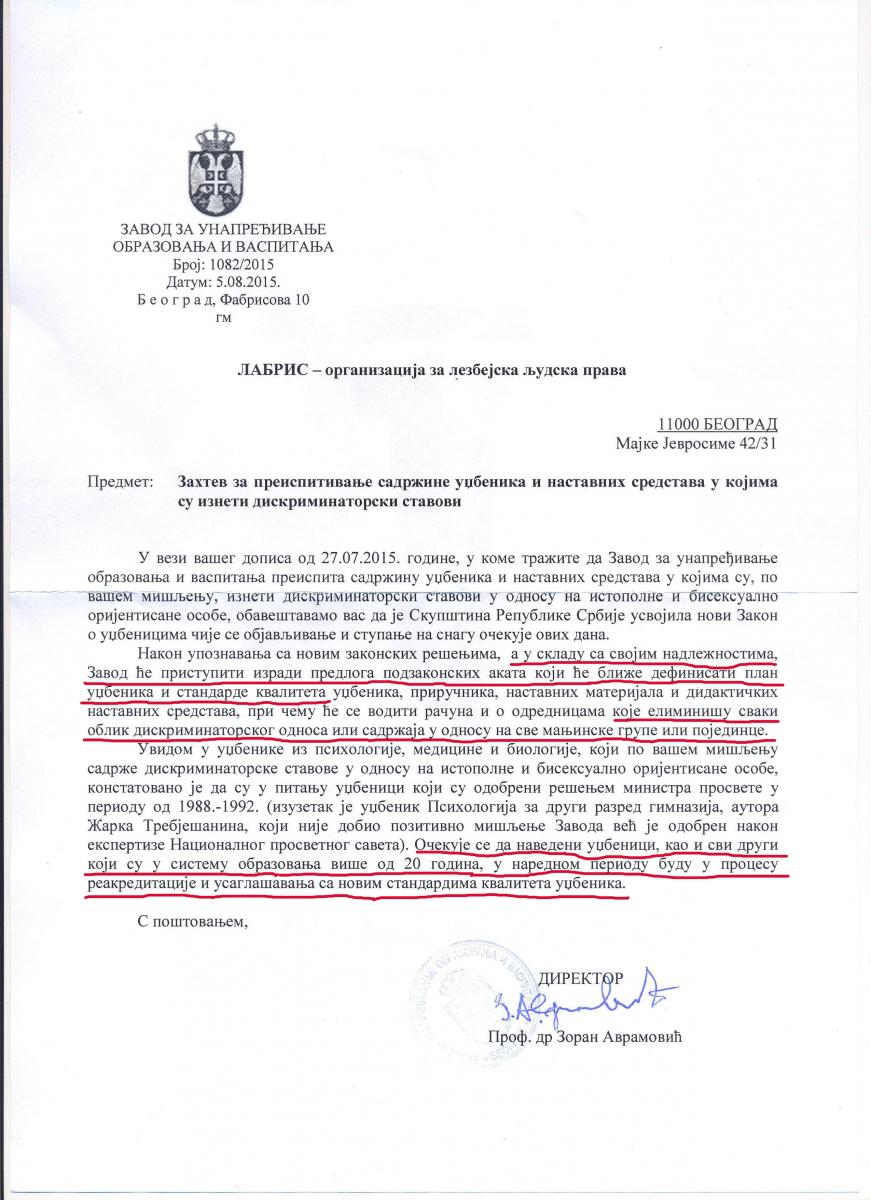 The request that was sent by Labris to the Institute contained a reminder of the provisions of Article 4 of Law on textbooks and teaching materials ("Official Gazette", no. 72/2009) which stipulates that textbooks and other teaching materials in its content and form should enable implementation of the principle of equal opportunities for boys and girls, and that textbooks and other teaching materials in its content or form must not threaten, belittle, discriminate or segregate groups and individuals or encourage such behavior, on the basis of race, national, ethnic, linguistic, religion or gender, disabilities, disability, physical and psychological characteristics, health status, age, social and cultural background, economic status or political affiliation, as well as on other grounds stipulated by the law governing non-discrimination. Also, we reminded that Republic of Serbia is a state based on the Rule of law and social justice, principles of civil democracy, human and minority rights and freedoms and committed to European principles and values, ​​as it is stated in the Constitution of Republic of Serbia.
Along with the request, Labris submitted also a qualitative analysis made on a sample of 26 textbooks that are in use in the field of psychology, medicine and biology. In these books we came across no less than 18 citations in which a homosexual or bisexual orientation is spoken about in an offensive, discriminatory and unscientifically based manner. In fact, homosexual orientation was removed from the list of mental illnesses on May 17th, 1990 and the Serbian Medical Society in 2008 publicly confirmed that homosexuality is not a disease.
Labris is expressing our satisfaction with the positive response of the Institute, especially with the fact that all textbooks in use for over 20 years will be harmonized with the new standards of quality of textbooks. As we believe that we are all on the same path that will lead to a more modern textbooks which will be in line with the law, we will send an official letter to the Ministry of Education and Technological Development with a request to supply a timeframe of the planned activities for the elimination of discriminatory content from textbooks.
________________________________________
* Project "Improvement of the social situation of LGBT people with education" was supported by the Embassy of the Kingdom of Netherlands.