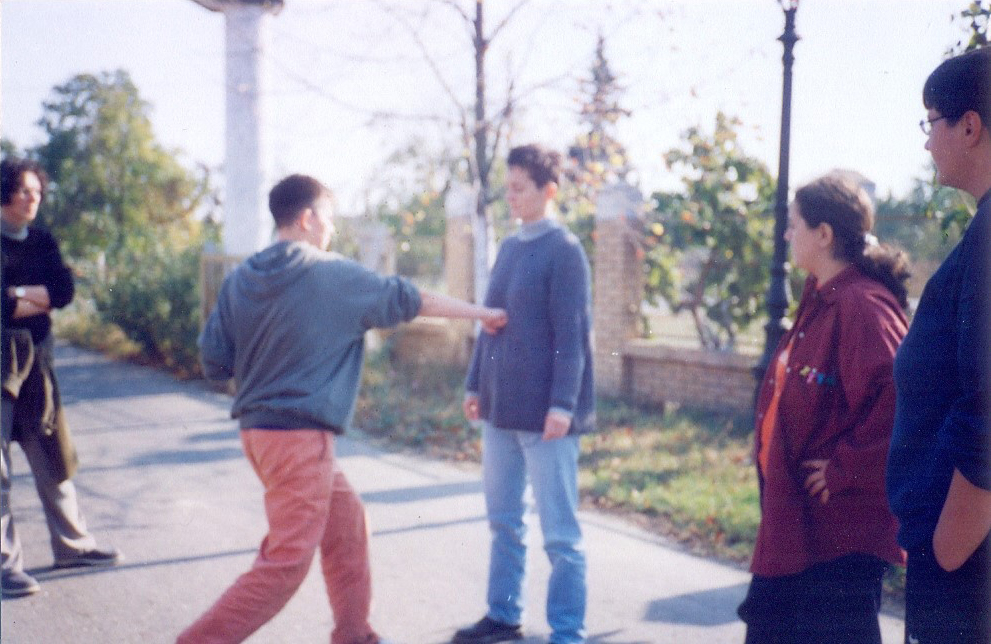 In that city of Sombor: Second Lesbian Week 2000
From 17th to 22nd October 2000
When I was asked by Jelena V. to write a text about the second Lesbian week in Sombor, first I just laughed in disbelief. I thought, -it was 10 years ago, it is not like I remember it well. Then I said, -and those things I remember, they are not really for a newspaper article, and she was sincerely surprised. Of course, for me that was a worthy event full of memories, so I will try to evoke those memories and impressions, and also the significance that this event had for me.
When he wrote his famous poem, Zvonko Bogdan did not know what spectacle would play out back in 2000, in that city of Sombor. More specifically, close to Sombor, in the motel "Beli Dvor", where around 60 women gathered, mostly lesbians from Slovenia, Croatia, Bosnia and Herzegovina, Montenegro, Macedonia, Serbia and Kosovo, to learn something, to socialize, to encourage each other and to somehow celebrate their diversity. Together. We did not know each other, all of us, of course. Some of us knew each other, mostly from prior events. The event I am talking about is known as the second Lesbian Week. The story takes place directly after 5th of October 2000, just as the so-called democratic changes occurred. Euphoria, energy, universal joy and the feeling of freedom without limits, was ubiquitous and irresistibly contagious. The ideal timing for this event. My whole year was filled with new discoveries, journeys, new people, great seminars, psychodrama ... Not only that Sloba was not there anymore, but I was dating my first real girlfriend, after years of wandering through the hetero world. When I say a real one, I am talking about a couple of earlier, mainly tragicomic, attempts, incoherently terminated.
A promising journey. With us there was a bunch of women, very likely lesbians (I do not want to be bothered with that politically correct acronym), most of whom I did not know, but we were going on a trip together, and we should be there almost 7 whole days. I do not remember what I told my parents, but certainly not the whole truth. It is possible that I have covered this event with the veil of all the seminars which I was always happy to participate in. So I did not have anything to worry about. I was in safe hands. Seminars are socially useful, desirable goods. My additional motivation was to get away from Belgrade, escape a little from the office, change the environment. Of course I took days off, but who would not? Then a tour de force started, already on the bus. Someone started humming, the next one joined her, and then the third one took out a tambourine ... all of a sudden the bus started to look like a moving opera, a musical. Well, some of us have refrained from singing for the simple reason of the lack of talent. Instead, we danced on the seats. Here we go.
Where am I, damn it? With all the wonderful connotations referring to the devil in this case. We had to arrive at some point. And there, in the middle of a semi-wild nature, a partly equipped motel "Beli Dvor". Not too many guests. Perfect. Finally WE were the majority. An interesting feeling. Can there be a better place for 60 lesbians? I do not believe so. I think we were at that moment at the best possible place and in the best possible company in the world. I will not even talk about the wonderful October sun. Home run.
This was followed by the shock of people working at the motel. They knew who was coming, but still, they fully experienced it when our little group appeared before their eyes, with various requirements, such as vegetarian food, vegan food God forbid... but, I think that this was the only unusual request for them. Although significant, because some waiters thought that the intestines were vegetarian food, because, hello, that was not meat. Although this is a true anecdote from a different seminar, also lesbian, organized earlier somewhere in Serbia, it could have also happened here. Of course, we had to occupy almost the entire motel most of the time with all the additional facilities in order to have all the planned workshops. Also, there were the parties organized, with which each day ended, with the exception of those days which started with parties. As time went on, there were more and more of days like these.
I do not think that it was planned, but I most vividly remember those informal workshops with Zoe and Lena Je (who also facilitated a fantastic feminist theater, as an official workshop), which took place every day during the breaks from other workshops, in a somewhat different, more relaxed, manner. There were no predetermined rules, except one. Everything was absolutely voluntary. The details I will keep to myself, for those who were there, and they know why. That was also the last time we sang Brena's 'Jugoslavija' (the most resonate votes were of Rada and Zoka: "And the farmer and the herdsmen, as he plays the flute ..."), and there, through song and dance, was created the famous to many 'Pussy Manifesto'. I learned that cunt is not necessarily a dirty word, regardless of the fact that it is in most domestic curses. I also learned that I can say, and I can even shout "I am a lesbian!", and that it was a good thing, even though I officially declared myself as bisexual. Who cares? And I learned that there were a lot of other people like me around.
Music, laughter, relaxation, probably caused by the idea of distance from the reality that surrounds us, led to an unprecedented creativity and fireworks of ideas that have jumped exponentially up. It is a shame that hardly any of us was ready to write it down on paper. I am sure that at least a novella would be created , if not a movie. I justify that with a lack of time. Certain love scenes also took place, of course. I hope that Labris staff will not mind that I put the official workshops in second place. They were all great and memorable, and commenced with the general bewilderment of the participants with a gentle opening and were finished with a huge hug, sometimes only symbolic, as recognition, and sometimes a complete understanding of the participants and their life situations. I learned that I was not the only one who was afraid of being different, that some women suffered terrible violence because of their sexuality, were thrown out from their homes, beaten, and abused in the worst and unimaginable ways. Some had better stories. All of them were unprecedented support to those who had less experience, who still did not know what to do with their lesbian identity, who could not say who they are, not to their best friend, sister, mother, God forbid brother or father ...
Still, I have to separate the workshop which had the most impression on me and stayed in my memory as the most remarkable one. Irena's Wen-Do in nature, a martial art of self-defense, where we learned how to defend ourselves from possible attacks by potential rapists and attackers (assuming that the person did not have a gun - in which case it would be useful to have it also), just using your body and voice. Yes, the voice is a powerful weapon, and we should know when to use it, a lesson within a lesson.
In those relaxed moments a lesbian anthem - "Comrade, you liar" was born, which in this environment for me gained a new connotation, a lesbian one, of course, and Tanja explained it to me at the bar. The workshops were numerous, some less, some more interesting, as it always is. Here I first heard that lesbian relationships can also be violent, that there is something called internalized homophobia, and that it is a tricky player, and that 'coming out' was a process that can last a lifetime ...
On a personal level, I discovered the charms of so-called polyamory, although I was not aware of the existence of the term, but I was sure that I was living it. From this story a new great love was created, a little later also my first serious relationship, which is now still existent.
Never before and never after it in my life have I seen more lesbians in one place. Almost in harmony. I have never heard the words lesbian, pussy, gay, feminism, personal is political so many times. I have forgotten many things, but that sense of belonging and genuine spontaneity and freedom remains in me. As for me, this was one of those trips which will forever be encrypted in every part of my body, and a place where I can always look for strength when I need it and answers which I sometimes do not have. Life was never the same again. Nor should it be. The power that I find when I recall the Lesbian week is really a perfect feeling.
Eh, if Zvonko were there, I am sure he would have added a few more verses, such as: "Well, a woman loves a woman... in the city of Sombor". I mean, okay, they also drink wine ... It has been a decade since the second Lesbian week. I think it is time for the next one. High time.
by: Korana Koraksić, October, 2010
photo: Workshop Wen-Do in nature, a martial art of self-defense, Labris archive