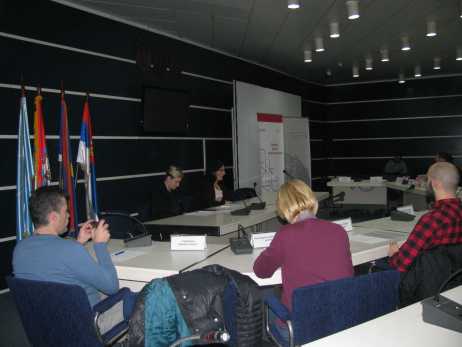 MEMORANDUM OF UNDERSTANDING OF THE LOCAL NETWORK FOR PREVENTION OF DISCRIMINATION AND SUPPORT FOR LGBT PERSONS
Assistant to the Mayor of Novi Sad, Ljiljana Koković, attended the signing of the Memorandum of understanding of the Local network for the prevention of discrimination and support for LGBT people. It is on behalf of the City of Novi Sad that she signed this Memorandum with several other institutions and organizations located in Novi Sad. The City administration has the role of the coordinator of the Local network for the prevention of discrimination and support for LGBT people.
Members of the Local network are the local institutions of social and health care, police and prosecutors, local government and the Autonomous Province of Vojvodina, the National Employment Service – office in Novi Sad, the Youth Office of the City of Novi Sad, the Ombudsperon of the City of Novi Sad and civil society organizations .
- With the act of signing this Memorandum we are trying to establish better coordination of the relevant factors in the fight against discrimination and to provide adequate protection of human rights. The obligation of the state bodies and civil society organizations is to take all possible preventive measures, but when it comes to discrimination against persons on any ground, the best way to prevent it is education which would prevent the creation of prejudice. Insufficient or poor knowledge contributes to the creation of prejudice on the basis of which comes to discriminatory treatment - said Ljiljana Koković and added that national, religious, political, sexual and other preferences may not have an impact on the treatment of people in any sphere of life, because human rights apply to all people without exception.
Aleksandra Gavrilović, on behalf of "Labris" expressed her satisfaction with the signing of the Memorandum, because, as she said, LGBT people face discrimination on daily basis.
- This is an extremely important step that can specifically help in the reduction of discrimination for persons who belong to this population whose daily life is filled with discrimination, insults and frequent physical attacks. The establishment of local multi-sectoral networks and involvement of different stakeholders is a step towards improving the respect for human rights in Serbia. Improving the situation of LGBT people in the local communities is the first step towards creating a society with no differences, where violence will be reduced to a minimum - stated Aleksandra Gavrilović.
In addition to Belgrade and Pančevo, Novi Sad is the third largest city in Serbia where the Memorandum was signed, and this example will be followed by Subotica, Kragujevac, Niš and Novi Pazar.
" Network Change for Serbia`s LGBT Community" is a two-year project aimed at improving the state of human rights of LGBT people, and implemented in order to stimulate political dialogue and implementation of international and European standards in this field. The project is implemented by the Organization for lesbian rights "Labris" with the financial support from the US Agency for International Development.
Novi Sad, 23rd of Decembar 2016
Source: http://www.novisad.rs/potpisan-memorandum-o-saradnji-lokalne-mrezhe-za-prevenciju-diskriminacije-i-podrshku-lgbt-osobama